With the growth of today's drive for greener construction and greener living, you may have heard people talk about energy-efficient replacement windows. You might be wondering, "Should I get an energy-efficient window?" or "What can energy-efficient windows do for me?"
If you're debating taking the leap to energy-efficient windows, here's everything you need to know.
What Is an Energy-Efficient Window?
An energy-efficient window is specifically designed to resist heat-transfer. While a window with an insulated frame is much more energy-efficient than one without insulation, energy-efficient windows also typically have low-E coated glass. Low-E is a coating designed to reduce solar heat gain, so light gets into your home through your window without allowing excess heat through. On the other side, these windows also block heat from escaping through the window in cold weather. Energy-efficient windows are often double-paned to prevent air leakage.
There are three metrics you want to know when it comes to an energy-efficient window:
SHGC: Solar heat gain coefficient lets you know how effective the window is at deflecting solar heat gain. The lower the SHGC, the less solar heat gain you will experience.
U-Factor: This tells you the rate that the window conducts the non-solar flow of heat. Again, the lower the U-Factor, the more energy-efficient the window.
Air Leakage: Air leakage lets you know how much air can escape through the window. Once again, lower is better.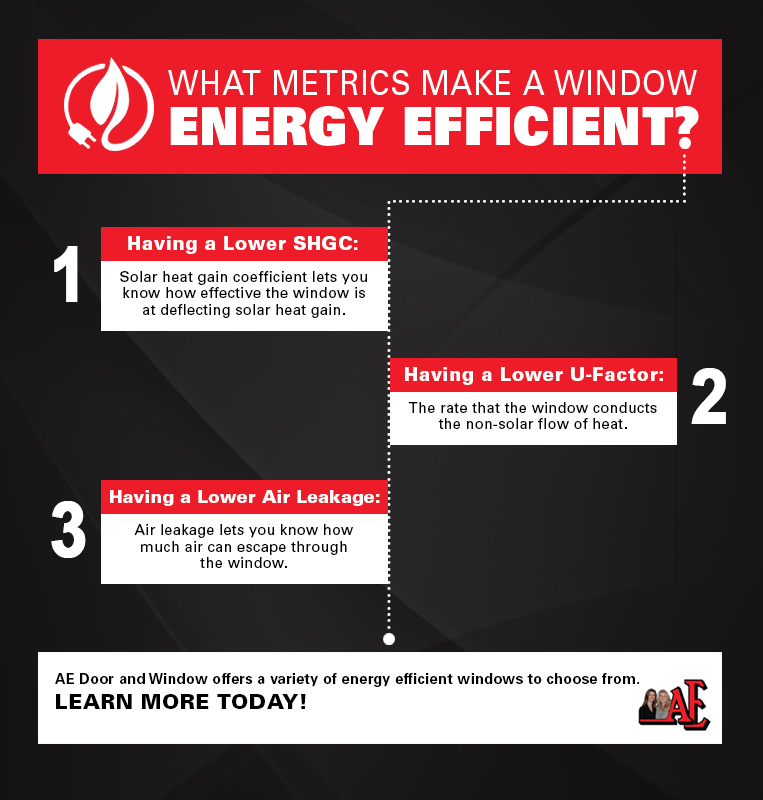 There are two other statistics that may interest you when it comes to energy-efficient windows:
VT: Visible transmittance lets you know how much light is transmitted through the window.
LSG: Light to solar gain is a measure of how much light the window transmits versus how much extra heat gets in. A higher LSG means you get more light without as much heat.
Should I Get an Energy-Efficient Window?
So, what are the benefits of Energy-Efficient windows? The most obvious benefit is that with these windows, you won't have to use as much energy to heat your home in the winter or keep it cool in the summer. Depending where you live and your tolerance for temperature extremes, this could save you a tremendous about of money. Energy-efficient windows may also offer health benefits by blocking UV radiation. Finally, you'll have the satisfaction of knowing you're contributing to overall energy conservation.
How Much Money do Energy-Efficient Windows Save?
Again, the amount of money you will save with your energy-efficient windows will vary depending upon how much you currently use your heating or air conditioning. When shopping for energy-efficient windows, the two things you will want to find out are the cost of the window and how much energy you can expect to save, expressed as a percentage — for example, 25% energy savings over your current windows.
Figure out roughly how much you spend in energy costs for heating and cooling annually, as they almost always represent the bulk of one's energy costs. Apply the percentage to that number. Divide the cost of your energy-efficient windows by that number for the number of years it will take for the windows to pay for themselves and savings to begin. If you're an in an area that sees temperature extremes, you may find these windows pay for themselves in a year or less.
Where Can I Get Energy-Efficient Windows in Cincinnati?
If you're seeking new windows in the Cincinnati or Northern Kentucky areas, come to the most trusted name in garage doors, entry doors, storm doors, awnings and windows in Cincinnati, AE Door & Window Company. We offer a variety of beautiful and practical windows to suit your needs, including:
The 1000VT Aeris Series: Featuring maintenance-free vinyl exteriors, real wood interiors and a unique sense of beauty and warmth, along with the ComfortTech™ Warm Edge Glazing System.
The 800VT Endure Series: With the Sunshield® Vinyl frame and sash in addition to the ComfortTech™ Warm Edge Glazing System.
The 700VT Aspect Series: Another beautiful, quality window featuring the Sunshield® Vinyl frame and ComfortTech™.
Garage Doors & Windows Repair
At AE Door and Window Company, we're more than happy to talk to you to discuss your specific window needs in Cincinnati, Eastgate or Northern Kentucky. We can help you find the right windows for your home and budget, and have our trained pros install your new windows in practically no time at all so you can start enjoying them right away.
To get started, give us a call at (513) 742-1984, or contact us online to request an estimate. We're looking forward to helping you make your home the best it can be with quality windows from AE Door and Window Company.