Exterior solar shades are a great solution to block sun and wind from your patio or porch!
Protect your home from the sun with motorized solar shades that help you control the sun from the outside. Motorized, retractable shades block the sun's heat – paying for themselves year after year in reduced energy bills and protection of your furnishings from harmful UV rays that may cause fading. Solar shades are custom designed for your home or business with translucent or opaque fabrics in a wide variety of hues.
Download Product Brochure
If your only sun protection is inside your home – you're losing the energy battle! Long popular in Europe, exterior solar shades block the heat of the sun before it has a chance to heat up the window glass…while reducing glare and protecting your furnishings.
Solar Shades are installed on the outside of your windows, and operate with a remote control from inside the house, store, or building. Choose see-through shade fabrics, or opaque acrylics that block the view. Exterior solar shades keep the beautiful woodwork of your palladium windows in full view inside the house, while shading the glass.

Exterior Solar Shade Products
Several models and operating systems are available for exterior solar shades, and whole house walls can be operated with a single remote control. Cassolet style shades can accommodate awning windows, and guide options include cables, rods or tracks, with or without side zippers. Aristocrat exterior solar shades are powered by Somfy Motors, the world's leading manufacturer of specialized motors and control systems for shade products.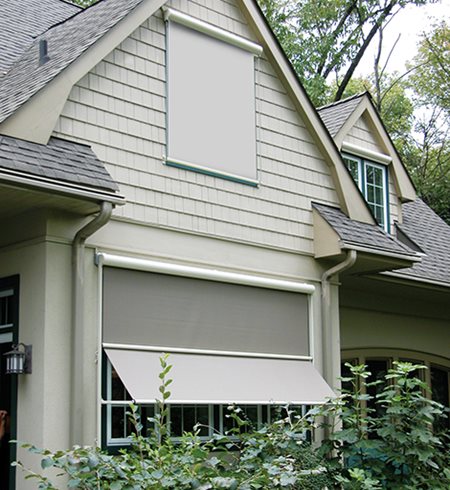 Solar Shades may also be mounted on the inside of the house to block out the sun, but they are much more effective when mounted outside the windows to prevent some of the heat hitting the glass windows, which will in turn let off heat inside the home.
NEW - Retractable Screens!
Have you ever considered enclosing your porch or patio? Maybe you're not sure if you want to commit to a screen room or a sunroom just yet. Aristocrat Awnings has the perfect solution for you! By installing our solar shades around your porch, you can convert it to a screen room when you want to keep the bugs and some of the sunlight out, or retract the screens to have the open patio you love!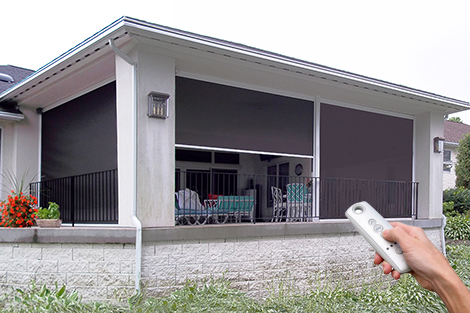 By adding Solar Shades to your home, you don't have to choose between the open air or a closed screen room - you can have both! With the touch of a button, transform your patio into a comfortable screenroom any time. You can keep the bugs out with our zippered Solar Shade II, which creates a seamless closure.
Discover this unique energy saving shade – a shade that installs on the exterior of your home, but operates from the inside with remote control technology. The most efficient way to block the heat of the sun is from the outside – before it has a chance to heat the window glass.
Exterior solar shades are a great solution to block sun and wind from your patio or porch!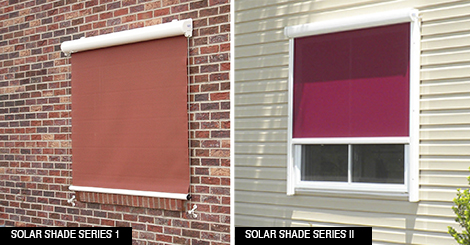 Block the heat of the sun before it has a chance to transfer heat to your windows – and then into your family room! Exterior solar shades reduce the need for air conditioning, and prevent furniture and carpets from fading, too. Choose from see-through or solid fabrics.
Ideal shading for sunrooms! Solar shades install on the outside, so you can open your sliding windows and not be bothered by curtains or blinds blowing inside the room.
Get more information about our solar shades for home and business, contact us today!
How to Choose A Solar Shade
The chart below displays the different solar shade models, features and options available on our Solar Shade I & II product line. Your authorized Aristocrat Awning dealer will help you determine which solar shade model best fits your needs and budget.
Solar Shade I & II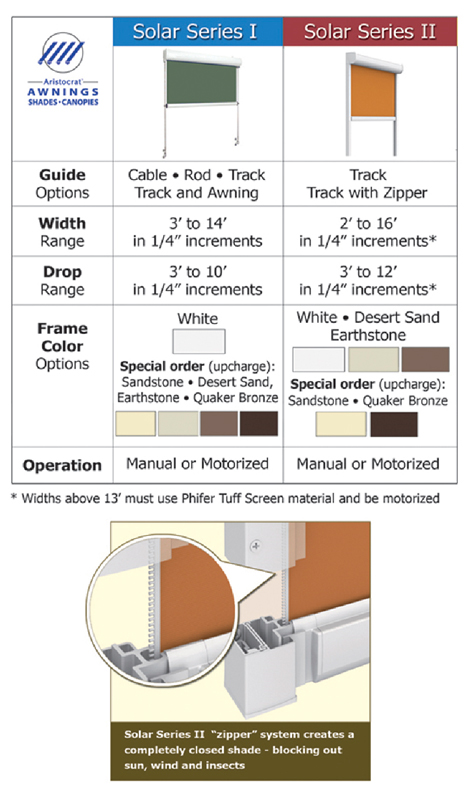 All Aristocrat Awnings carry a limited lifetime manufacturer's frame warranty and a twelve year warranty on Craft-Bilt collection fabrics. Click here for more details.
Benefits of an exterior Solar Shade
When the sun hits the glass pane in your windows, they heat up and allow more warmth inside. Because Solar Shades are mounted outside on your home, they block the sun before it hits the windows, helping reduce cooling costs.
Control how much light and privacy you need by choosing solid acrylic fabric or open mesh fabric.
Completely cover your sunroom or other windows to provide sun protection when and where you need it.
Can be joined together to safely cover large spaces.
Operate manually, or by remote control.
Accessories for Exterior Solar Shades
When you design the installation of exterior solar shades on your home or business, consider the available options that will create the system that best meets your requirements.
Remote control operation
Joined systems for one button operation of all shades
Special order frame colors and custom colors
Automatic sun control sensors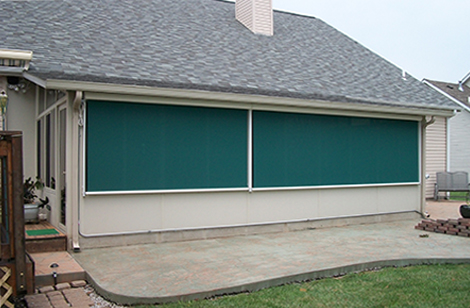 Ask your Aristocrat Dealer about these accessories, and other options available with your exterior solar shades:
Cable, rod, track or zipper
Cassolet Awning feature
Motorized or manual
Remote control or wall switch operation
Acrylic awning fabric, screen fabric, or vinyl or polyester shade cloth
Fabric Selection
Within our fabric collection, we offer a variety of colors and weaves for solar shade fabrics to perfectly complement your home or business.
Types of Solar Shades
Solar Shades are manufactured with a variety of openness factors. Openness refers to how tightly the fabric is woven together. A higher openness factor means that the fabric is woven looser. You will have a greater view to the outside, but it will not provide as much shade. A lower openness factor means that the fabric has a tighter weave, so it will provide more shade. However, it will also be more difficult to see through the fabric to the outside.
Cleaning Your Fabric
To clean your solar shade fabric, remove dust regularly with a vacuum cleaner or compressed air. You can also clean it with a sponge or soft brush and a solution of mild soap and water. Then rinse with clean water and leave the solar shade down until it's dry.
Warranty
Our solar shades have a lifetime warranty on the cassette, roller tube, drop bars, and tracks. Cables, rods, mounting brackets and end caps are covered for twelve (12) years from the date of sale should they become unserviceable due to a manufacturing defect. The warranty on the fabric varies depending on the manufacturer.
Get more information about our home solar shades, contact a dealer today!