Exterior solar shades are a great solution to block sun and wind from your patio or porch!
Protect your home from the sun with motorized solar shades that help you control the sun from the outside. Motorized, retractable shades block the sun's heat – paying for themselves year after year in reduced energy bills and protection of your furnishings from harmful UV rays that may cause fading. Solar shades are custom designed for your home or business with translucent or opaque fabrics in a wide variety of hues.
Download Product Brochure
If your only sun protection is inside your home – you're losing the energy battle! Long popular in Europe, exterior solar shades block the heat of the sun before it has a chance to heat up the window glass…while reducing glare and protecting your furnishings.
Solar Shades are installed on the outside of your windows, and operate with a remote control from inside the house, store, or building. Choose see-through shade fabrics, or opaque acrylics that block the view. Exterior solar shades keep the beautiful woodwork of your palladium windows in full view inside the house, while shading the glass.

Exterior Solar Shade Products
Proprietary SummerShieldTM powder coat frame and optional hood finish in your choice of five beautiful, fade-resistant colors
Your choice of awning- and marine-grade Tempotest® high-performance Italian fabric in over 100 stunning solids, stripes, textures and tweeds or six drop screen colors of 5% open solar mesh.
Premier Teflon® and Hi-Clean fabric coatings on Tempotest® fabrics for exceptional, low-maintenance care
Quiet, hidden SummerSpace® tubular motor
Motorized operation with remote control
Connect several units to be operated together with one remote control
Available in custom sizes up to 20′ wide and/or 12' tall
Heavy duty construction for window and porch applications
Wall-mount, soffit, or roof-mounted awning application
Retractable solar screens block up to 99% of solar heat transmission
Can lower air conditioning costs by up to 60%, depending on shade fabric/mesh choice
10-year frame warranty
10-year fabric warranty
5-year motor warranty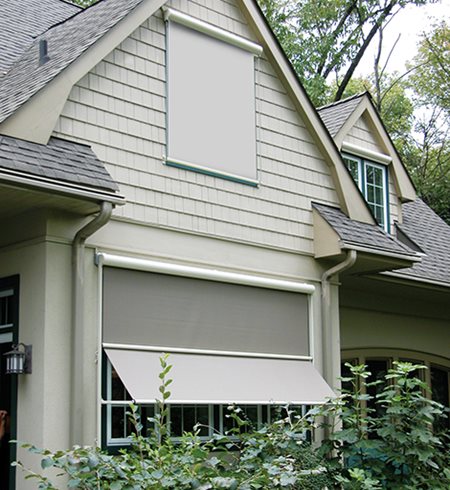 Solar Shades may also be mounted on the inside of the house to block out the sun, but they are much more effective when mounted outside the windows to prevent some of the heat hitting the glass windows, which will in turn let off heat inside the home.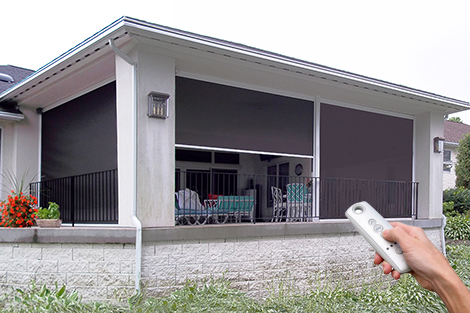 By adding Solar Shades to your home, you don't have to choose between the open air or a closed-screen room - you can have both! With the touch of a button, transform your patio into a comfortable screenroom any time. You can keep the bugs out with our zippered Solar Shade II, which creates a seamless closure.
Discover this unique energy saving shade – a shade that installs on the exterior of your home, but operates from the inside with remote control technology. The most efficient way to block the heat of the sun is from the outside – before it has a chance to heat the window glass.
Exterior solar shades are a great solution to block sun and wind from your patio or porch!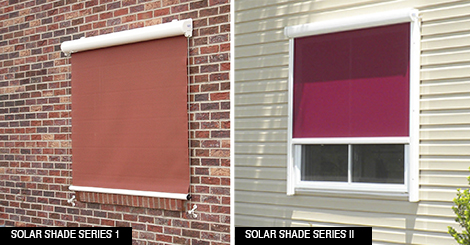 Block the heat of the sun before it has a chance to transfer heat to your windows – and then into your family room! Exterior solar shades reduce the need for air conditioning, and prevent furniture and carpets from fading, too. Choose from see-through or solid fabrics.
Ideal shading for sunrooms! Solar shades install on the outside, so you can open your sliding windows and not be bothered by curtains or blinds blowing inside the room.
Get more information about our solar shades for home and business, contact us today!
Features & Specifications
Side cable guides with floor or wall mount keep your Vivista drop shade in place in light breezes. The fabric is not side-secured – not intended for insect control or windy conditions.
WeatherGuard™ aluminum hood helps protect your fabric or mesh from the elements while retracted and prolongs the life of your motorized parts. Guard your drop shade from dirt, ice, snow and more.
Manual gear operation.
Width: 4′ – 10′
Drop: 4′ – 20′
Get more information about our home solar shades, contact a dealer today!