Industry
Healthcare Facilities
Educational Facilities
Hospitality/Public Space
Distribution
Retail
Highrise Construction
Hotels
Quick Ship Program - Cornell can manufacture and ship most fire doors in one to two weeks
UL Labeled - 4, 3, 1 1/2 and 3/4 hour labels.
FM Approval
Size Flexibility - each unit is built to exact opening size requirements up to 32' wide and 25' high.
Compact Storage - curtain stores in an overhead coil that is totally supported by the side guides.
Durability - commercial duty design, little to no routine maintenance.
Drop Testing/Resetting - simplified systems available.
Repairs - job records are retained and parts are readily available.
Vision windows
Mechanical Releasing Devices
Annunciators
Perimeter seals for smoke protection
Cylinder or slide bolt locking
Vinyl Astragal
Smoke and heat detectors
Bottom bar sensing edge for motorized units
Operator covers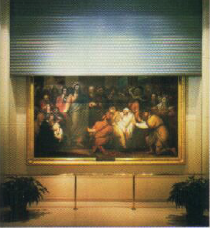 M100 FireGard™ System
A fire door / motor operator system where the motor operator is utilized to control normal and automatic fire door closing. This system never requires mechanical resetting and average automatic closing speed is controlled not to exceed 9" per second, even on large units.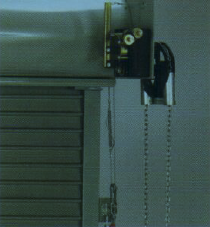 FireGard™ EZ Test'n Set
Adds the ease of testing / resetting and controlling speed to manual chain operated fire doors. Each door is provided with a pad-lockable guide mounted test handle. This system is economically ideal for exposed fire doors that do not require the convenience of motor operation.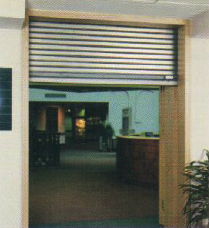 M60 FireGard™ System
This system adds control wiring to a conventional motor operator to close a fire door electrically in response to an alarm signal thus eliminating mechanical resetting due to frequent alarm testing. A release device is required with this system to close the fire door mechanically in the event of a prolonged power failure, which then requires mechanical resetting. This system is suitable for areas that have back-up power systems.
Brackets
Minimum 1/4" painted steel plates that bold to the guide assemblies and support the counter balance shaft and curtain. Standard Material & Finish: steel, shop painted gray
Counter-balance Shaft
4-12" minimum diameter outer shaft. This assembly supports the curtain and contains counter-balance torsion springs for assisting operation. Standard Material: steel
Hood
Protective sheet metal enclosure for the curtain that provides fire resistance at the head of the door and keeps the brackets rigid. Standard Material & Finish: G90 galvanized steel with baked-on light gray polyester enamel. Optional Material - stainless steel
GuidesMinimum 3/16" angle assemblies bolt to the wall and support the entire weight of the door. Standard Material & Finish: steel with SpectraShield® powder coating 30-7192 gray. Optional Material: stainless steeel.
Bottom Bar
Two 2' x 2" x 1/8" back to back structural steel angles. Lock mechanisms available. Standard Material & Finish: steel with SpectraSheild® powder coating 30-7192 gray. Optional Material: stainless steel
Curtain
Interlocking roll formed slats with metal endlocks riveted to ends of alternate slats to maintain curtain alignment and prevent wear. Standard Material & Finish: G90 galvanized steel with baked-on light gray polyester enamel. Optional Material: stainless steel
Operation
Push-up operation shown. Hand chain, hand crank and motors are available. Doors operate by rotating shaft gear end. The opposite end of the shaft applies spring tension and is equipped with a spring adjusting wheel.
Release Devices - are electro-mechanical devices that initiate automatic closing in response to an alarm signal. Fail-safe models are initiate closing following a ten second +/- power outage. Battery back-up devices are fail-safe, but can last up to 72 hours without initiating a release due to a power failure.
Annunciators - provide visual and audible advanced warning that a fire door is about to close. They are activated automatically upon an alarm signal or loss of power.
Vision Windows - enhance life safety and convenience by allowing visibility to the other side of the firewall opening. Up to six 10" x 1 5/8" non-wired glass panes are available per fire door curtain.
Perimeter Seals - UL listed perimeter seals applied to fire doors adds protection against the passage of smoke and drafts around fire doors.
G90 galvanized steel with backed-on tan polyester enamel
Stainless steel, 300 series #4 finish
Hot-dip galvanizing on steel components
Powder coat finish in selected color
Zinc Rich Gray corrosion resistant powder coating
SpectraShield® Powder Coat Finish
Cornell's SpectraShield® Powder Coat Finish adds durability and aesthetic value to our products in a choice of over 200 colors. Surface preparation and the coating process produces a smooth, long lasting finish at controlled costs.